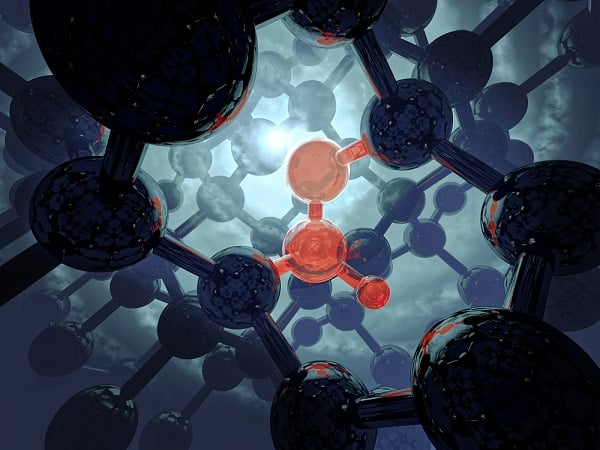 BURNABY, British Columbia, July 14, 2022 — A research team at Simon Fraser University (SFU) exploited a defect in silicon that it believes will enable the realization of massively scalable quantum computers 
— 
and the quantum internet that will connect them.
Previous research has indicated silicon as a suitable material for producing stable and long-lived qubits. The current research provides proof of principle that T centers, a specific luminescent defect in silicon, can provide a photonic link between qubits.


---
A single T center qubit in the silicon lattice, which supports the first single spin to ever be optically observed in silicon. The constituents of the T center (two carbon atoms and a hydrogen atom) are shown as orange, and the optically addressable electron spin is in shining pale blue. Courtesy of Simon Fraser University. 
---
The work, according to Stephanie Simmons, co-leader of SFU's Silicon Quantum Technology Lab, represents the first measurement of single T centers in isolation, and the first measurement of a single spin in silicon performed solely with optical measurements.
"An emitter like the T center that combines high-performance spin qubits and optical photon generation is ideal to make scalable, distributed, quantum computers, because they can handle the processing and the communications together, rather than needing to interface two different quantum technologies, one for processing and one for communications," Simmons said.
Additionally, T centers have the advantage of emitting light at the same wavelength used in current fiber communications and telecom networking equipment.


---
An optical microscope image of an array of integrated photonic devices, used to perform the first all-optical single-spin measurement in silicon. Tens of thousands of such 'micropuck' devices were fabricated on a single silicon photonic chip. Courtesy of Simon Fraser University. 
---
"With T centers, you can build quantum processors that inherently communicate with other processors," Simmons said. "When your silicon qubit can communicate by emitting photons (light) in the same band used in data centers and fiber networks, you get these same benefits for connecting the millions of qubits needed for quantum computing."
The researchers said that developing quantum technology using silicon provides opportunities to quickly scale quantum computing, as the infrastructure required to manufacture silicon computer chips already exists.
"This represents an almost insurmountable competitive advantage in the international race for a quantum computer," Simmons said. The team believes its results unlock immediate opportunities to construct silicon-integrated, telecommunications-band quantum information networks.
The research was published in Nature (www.doi.org/10.1038/s41586-022-04821-y).